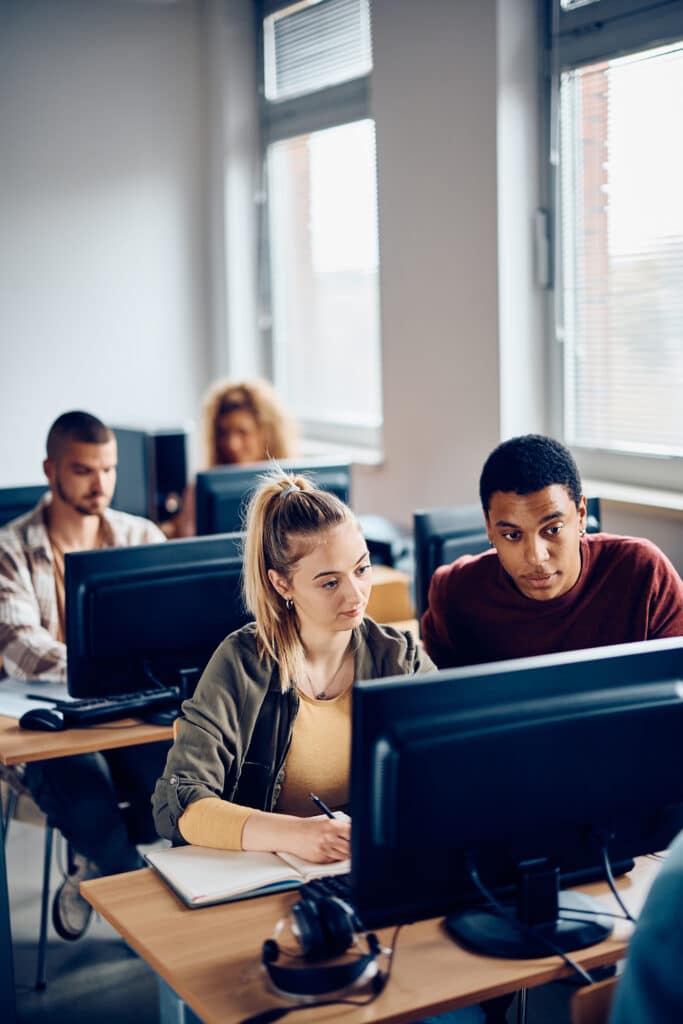 Secure & Reliable IT Services for Higher Education
With over 20 years of experience, the team at ANC Group understands the unique technology challenges faced by higher education institutions. As the reliance on technology continues to grow with more cyber threats than ever, it's crucial for Colleges to have a reliable and secure IT infrastructure in place.
(864) 548-9479
Speak with an IT Expert
Streamline Your IT with Managed IT Services
With years of experience in the technology industry, ANC Group has built a strong reputation for delivering reliable and tailored IT solutions to educational institutions. We have a deep understanding of the specific challenges faced by higher education schools, such as complex networks, data security, scalability, and budget constraints. Our team of highly skilled IT professionals is well-versed in the latest technologies and trends, enabling us to provide comprehensive IT support and guidance to meet the unique requirements of each institution.
Higher Education Managed IT Services We Offer
Managed IT services provides you with a dedicated team of technicians who are responsible for all or part of the day-to-day operations of your technology infrastructure.
This team will work with you to create a customized solution that meets your specific needs, and they will be there to help you when things go wrong. They will also help you plan for the future and make sure that your technology infrastructure is able to keep up with your growing organization. The benefit to you is that your on-site team is freed up to do activities that directly support your users.
ANC Group can also help you improve your organization's cybersecurity. This is especially important in the education industry where sensitive data about students, faculty members, and academic institutions are stored on computers connected to your network infrastructure.
Our cybersecurity services will make sure that this information stays safe from cybercriminals by using innovative security solutions designed for modern organizations. These solutions include network monitoring, malware detection and removal, security awareness training for your employees, and more.
ANC Group has partnered with some of the leading providers of internet services in the country in order to provide you with the best. Our solutions can reach virtually any location, and often at better prices, higher speeds, and more uptime than schools have experienced in the past.
If you're looking for a cloud solutions provider, look no further than ANC Group. We offer a suite of automated security solutions that can meet the needs of any organization. Our solutions are easy to use and provide the peace of mind you need to protect your data
IT Consulting
Another popular service that we offer is our IT consulting services. This service provides you with access to our team of experienced consultants who can help you plan and execute your technology roadmap.
Our consultants will work with you to understand your unique needs and then design a solution that fits those needs. They will also help you manage your budget and make sure that you are able to get the most out of your technology infrastructure.
Server virtualization is another service that we offer which can help you save money and improve the efficiency of your organization.
With server virtualization, all of your organization's servers are consolidated into a single physical server. This not only saves you money on hardware costs, but it also makes managing your IT infrastructure easier.
Data backup and recovery is another service that we offer which can help you protect your organization's data in the event of a disaster.
With our data backup and recovery solution, we will create a copy of your organization's data and store it in a secure location. This way, if something happens to your primary storage infrastructure, you will still be able to access all of your organization's data.
Data backup is especially important for organizations in education because they often have sensitive data about students, faculty members, and academic institutions stored on their systems.
Why Partner With ANC Group for IT Support?
With ANC Group, we make sure that every solution we provide for our clients is custom-tailored to your budget, personnel, and long-term business strategy. For everything from incident reporting software to technology upgrades, we want to put your business in the best position possible going forward.
Embrace Technology With Expert Managed IT Solutions Today
Don't settle for an IT company that holds your business back and tells you what you can't do. ANC Group's managed IT solutions accelerate your technology so you can build the business you've always dreamed of.
Learn More